Brush Waste Pick-Up April 1st - November 1st
Outside of the fall curbside bulk leaf pick-up program, only leaves bagged in biodegradable

paper

bags are picked up by the Department of Public Works crew. To minimize confusion, the City will pick up brown paper bags much like those your groceries are placed in at the local store, but taller. You are welcome to use the paper grocery bags as well if you do not want to purchase the larger ones. Please check with our local merchants if you are uncertain which bags are needed. Regular brush pick-up runs April 1 and will continue on the 1st and the 15th of each month until the final pick-up on November 1st.




Brush & Leaf Bag Pick-up

Please do not place your brush and leaves at the curb after pick-up on your street, because it will still be there until the next scheduled pick-up. Please contact the DPW at 834-7462 with any concerns.

Size and weight

restrictions:

not more than 50 pounds, no longer than 4' lengths

are strictly enforced, so please contact City Hall if you have any questions. As a reminder, please do not place any brush or yard waste at the curb for pick-up more than 1 or 2 days before the next scheduled pick-up. If the regular pick-up day falls on a Saturday or Sunday, it will be moved to Monday. If you have missed the scheduled pick-up, you can make arrangements to haul your brush and leaves to an approved location. Contact City Hall for details.



Fall Curbside Leaf Removal
We've noticed a struggle for many residents over where to place loose leaves for the curbside bulk leaf pick-up program. So here are some guidlines for next year:

The night before or early on the morning of removal, please have leaves on the pavement! We do not want to scalp grassy areas with the equipment that picks up the leaves, so please DO NOT place them over any grass!

Long windrows on the pavement work best for removing unbagged leaves.

If you want the cleanest result, we suggest bagging your leaves into biodegradable paper bags. Just set them out to the edge of the pavement the night before pick-up, and the DPW will remove them on the regular pick-up day!




Leaves should be ON the PAVEMENT!

Leaves should NOT be left in grassy areas
MSHDA's Step Forward Program Available to pay Delinquent Property Taxes If You Qualify
Water Main Flushing Scheduled for April 5th - 9th
The spring Hydrant Flushing was completed the last week of April

The City will conduct the fall water main flushing to clean out the distribution system. We do this twice a year to maintain high quality drinking water.

These projects typically take three days between the hours of 8:00am and 4:00pm. During times of flushing, we encourage residents to not wash clothes as the water may be slightly discolored. Please refer to your quarterly newsletter for more information or contact our office at 231-834-7904 with any questions.



May-Sep: Saturdays 9am-1pm
The Grant Farmer's Market is located at 135 S Maple St (M-37). Vendors pay only $5 per day.
For more information on getting a space or stall gate lock codes (under the pavilion), please contact Market Master Peter Pickard at 231.282.0424. Thank you Pete for making the beautiful signs for the Market! We invite local farmers and bakers to sell their own locally grown produce and baked goods at Market for the minimal fee of $5 per day. Bake sales, Girl Scouts, and similar fundraisers are welcome to sell also. Any other vendors please contact Pete. We do not allow wholesalers, yard sales, or flea market type sales at the market. A couple of arts and crafts along with food items is fine. Please contact the Market Master to reserve a space ahead of time. For vendors wanting simple offloading from a truck or trailer, we have stall gates for you. We have a handful of stall gates, so please reserve one ahead of time.
The City of Grant would like to thank The Fremont Area Community Foundation for the generous grant to make this project a reality. The City worked several years on plans for the purchase and redevelopment of vacant CSX property that was the former rail service yard. The City partnered with the Newaygo County Brownfield Authority and NCEDO for funding and support towards the acquisition and environmental testing of the property. The City Commission approved a site plan concept with three main goals: increased paved parking space for the business corridor, increased public park green space, and a small farmers market tied to the existing Water Tower Park. Last fall the parking area was renovated and is ready for our market season!
City Clean-Up Event May 13th-15th 2021
The City will host a dumpster for this annual spring clean-up event. Residents can unload "non-hazardous" household waste into a dumpster at no charge. The event will end once the dumpster is full! Thank you to all of our City residents who participated in this free event.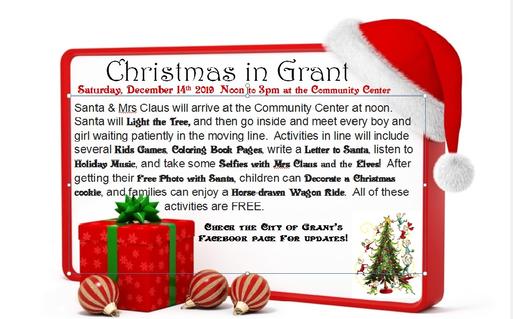 Christmas in Grant is a free annual community event and everyone is welcome to attend.
Wi-Fi at the Community Center
We now have Wi-Fi available for use during rentals. Login information will be provided when the renter picks up the access badge for their rental!
Emergency House Numbering System
"Ashland-Grant Fire District has developed a house numbering system to locate addresses. A green reflective sign 4.5" wide & 18" long. This is an effective way for emergency people such as the fire Department, Police or Ambulance Crew to find your driveway at a time of crisis. It will prevent delay, lost time, and perhaps save a life. The cost of the sign is $20.00. Add a pole for $10.00. Ashland-Grant Fire District will deliver and assemble the sign at no cost." Please contact the City Office and we will give you the number to place your order.
Newaygo County Uniform House Numbering Ordinance
An excerpt from the Ordinance:
"In order to uniformly assign and maintain house numbers and provide for easy identification of those numbers for various purposes and to promote the health, safety, adn welfare of the citizens of Newaygo County, the Newaygo County Board of Commissioners approves these Rulles and Regulations."
Display on Primary Structure. Each primary structure shall display a house number. The house number shall be displayed in a position easily observed and readable from the roadway named in the address.
All numbers that be in Arabic numerals at least 3 inches high and 1/2-inch stroke. The color of the numbers shall be in contrast with the background. (See figure 5)
Additional Display.
When the structure is not visible from the road or more than 90 feet from the road, the address must be posted not more than 20 feet from the roadway (driving surface) and within 10 feet of the drive.
Numbers must be on reflective 911 emergency sign.
Display of Non-Official Number, Removal, Destruction of, etc.:
It shall be unlawful for any person to display any number other than the official number upon any house or building or to take down, destroy, mutilate or deface in any manner any house or building number."
Additional Payment Options Available (NOT For Water/Sewer or Tax Payments)
| | | |
| --- | --- | --- |
| We Now Accept Debit & Credit Cards through GovPayNet. Their service fees have recently changed, so be sure to ask questions first before making payments. | | GovPay is a third party vendor that does charge you, the customer, a percentage of your payment amount. This is just one more option for customers needing to pay their police department related bill. |
Police Department

Payments

, Pay Location Code

#4310

–
Parkview Cemetery Information Available Online
To provide an additional level of service for those individuals looking for cemetery information after hours and on weekends, we have added the

Parkview Cemetery page

to our website. Information available includes a map showing cemetery layout of Blocks and Lots as well as a current searchable document listing all occupant information.
Ashland/Grant Fire District has asked the City to help get the word out about the schedule for siren testing. On the FIRST MONDAY of EVERY MONTH (summer only) between 7:00pm and 7:30pm, a continuous siren will be heard throughout the City of Grant. The constant siren sound is used to signify a tornado during weather events. This siren stays on constantly for approximately 3 minutes. If you have questions or concerns about the siren, please contact the Ashland/Grant Fire District directly.
Other Helpful Information
Dogs in the City of Grant
It is important to keep dogs on a leash or appropriately confined to your property by following our Dog Ordinance requirements. This will also help to avoid unnecessary fines from dogs running at large. This includes dogs enjoying all City Parks. To report a problem, please contact the Grant Police Department.
The City of Grant is in the process of determining whether the City has one or more colonies of
feral cats
. Before anything can be done to solve a problem, we need to first identify what the actual problem is. Some residents seem to think there is a problem with feral cats and some do not. If you see feral cats in the City of Grant, please help us by gathering as much information as possible. We need to know information such as where they are coming from and going back to? Are they approachable and friendly or do they run from people? This will help us better determine if we have owned cats that are allowed outdoors, abandoned pets, or feral cats. We have purchased two live traps for City residents to check out to live trap cats, with a required deposit. Please call ahead to (231) 834-7904 to ensure the traps are available on not currently checked out.
Resources Available:

Lake Haven Animal rescue, contact: Cheryl McCloud; 551 Pickerel Lake Drive, Newaygo, Michigan (on the south shore of Pickerel Lake).
Phone: 231-652-7507
.
Email:
info@lakehavenrescue.org
. They take strays cats and dogs and places them with adoptive families, just call ahead to make arrangements as limited space is available.
http://www.lakehavenrescue.org/pdf-files/CatsandDogsMagazineArticle.pdf
http://www.lakehavenrescue.org/about.htm
http://www.lakehavenrescue.org/stories.htm
.
Newaygo County Animal Shelter, 78 N. Webster St., White Cloud, Michigan Tel (231) 689-1867 or (231) 689-7020 (voicemail). The animal shelter is open Monday, Tuesday, Thursday, and Friday between the hours of 11:00am and 1:00pm. We recommend that you call ahead so that they know you are coming. The animal shelter does work with lake Haven Rescue to place some animals from turned over to them.
Looking for a low cost spay and neuter program available for low income households? Call (231) 652-1333 and leave a voice message. They will have a volunteer call you back. Through this program, arrangements are made with a veterinarian for low cost spaying/neutering of cats and dogs. Qualifying, low-income households are elgible, and this program is sponsored through Lake Haven Animal Rescue.
Live Traps available: Lake Haven Rescue, Newaygo County Animal Shelter, and City of Grant all have live traps that can be checked out by Grant City residents to catch strays and feral cats. There is a deposit required, which you get back once the trap has been returned with any animals and in proper condition. The trapped cats should be taken to the Newaygo County Animal Shelter or to Lake Haven Rescue.
The City of Grant does not accept live traps with animals inside.
---
Useful Information about our Community:
Visitor Counter (below) Since November 2009
City of Grant
280 South Maple Street --
PO Box 435, Grant, MI 49327

Phone:
231-834-7904 --
Fax:
(231) 834-5984
Office Hours: Monday - Thursday 9:00 AM to 5:00 PM
Friday
9:00 AM to 12:00 PM
Contact Webmaster
Updated November 16, 2020
"The City of Grant is an Equal Opportunity Provider, and Employer"